Managing schedules efficiently is crucial for any organization. With the rollout of our new Scheduler, customers can now benefit from a host of advanced features designed to streamline the scheduling process.
This resource ensures smooth navigation through the platform's array of features.
DIFFERENT VIEWS
Upon accessing the Scheduler, customers will notice the distinct "By Employee" view, which provides a comprehensive overview of individual employee schedules.
Additionally, our "By Job" view (which is also our original Scheduler view) presents a valuable perspective, allowing you to quickly view your schedule organized by job code.
| | |
| --- | --- |
| By Employee | By Job |
| | |
EXPAND/COLLAPSE SCHEDULES
The interface's retractable list feature adds to the overall ease of use, providing a convenient way to organize and manage departmental schedules. By clicking on the arrows conveniently located within each section, users can swiftly expand or collapse the lists, enabling a clear and uncluttered view of each department's schedule, thereby enhancing user experience and promoting efficient workflow management.

FILTER OPTION
The main Scheduler page now integrates a user-friendly Filter option, allowing customers to pick and choose which schedules and/or job codes they want to view while working within the Scheduler. This feature streamlines the process, enabling efficient scheduling for different teams and departments within the organization.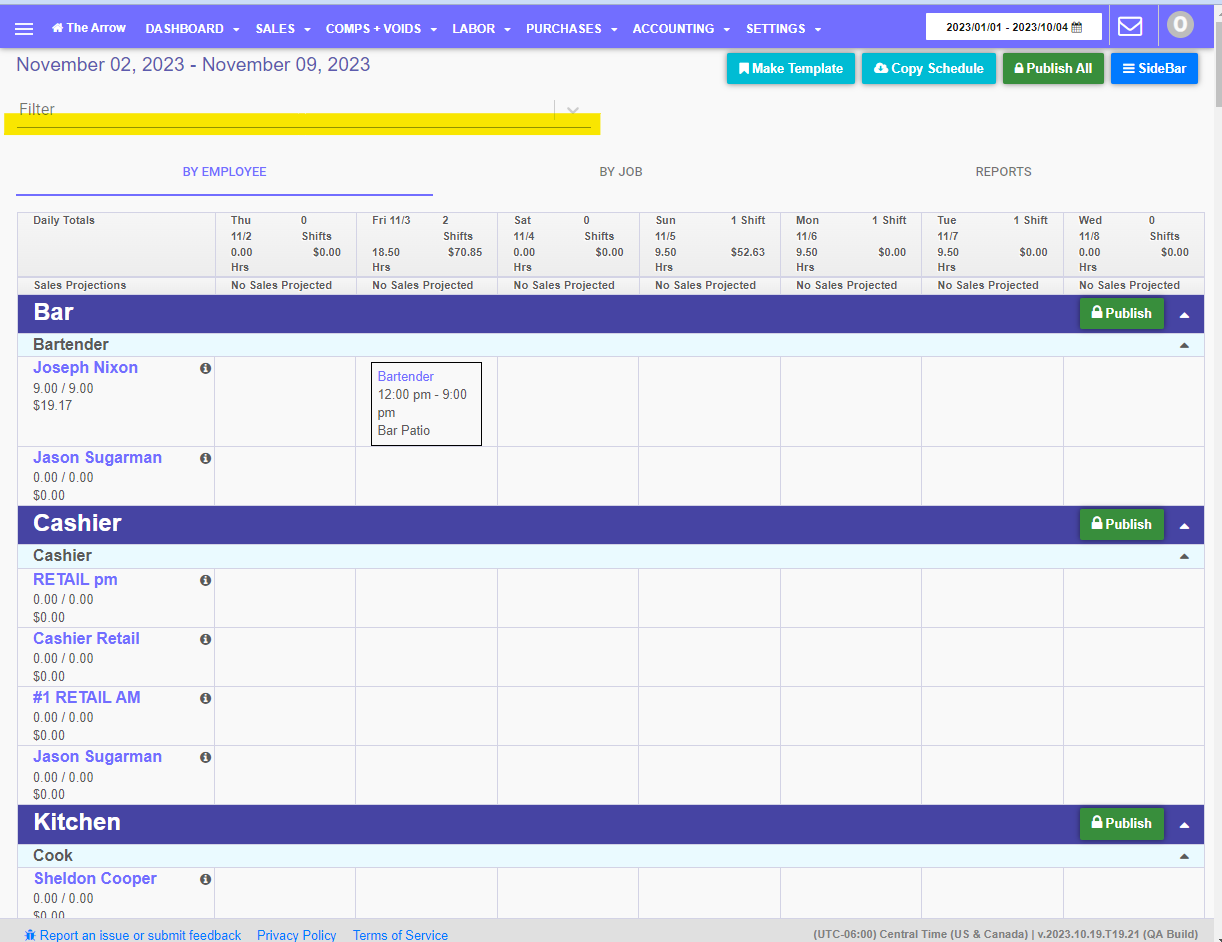 COPY SCHEDULE
By utilizing the Copy Schedule feature, you are presented with a range of options, including the ability to select from a template, copy an older schedule, or duplicate the previous schedule. This functionality enables you to bypass the challenges of constructing a schedule from the ground up, allowing for swift and efficient replication of existing schedules or templates. This way, you can save time and effort while ensuring consistency and accuracy in your scheduling process.


DRAG & DROP / SAVE AS YOU GO
Our Scheduler has been enhanced to provide even greater flexibility and ease of use with the rollout of our drag-and-drop functionality. Now, you have the ability to seamlessly transfer shifts across different employees within the same schedule by clicking on the cell and dragging it to the destination of your choice. And even better yet, the Scheduler saves as you go! No more need to manually save the schedule which eliminates the risk of loss of data in a worst case scenario situation (losing internet access, power goes out, laptop battery is dead, etc.)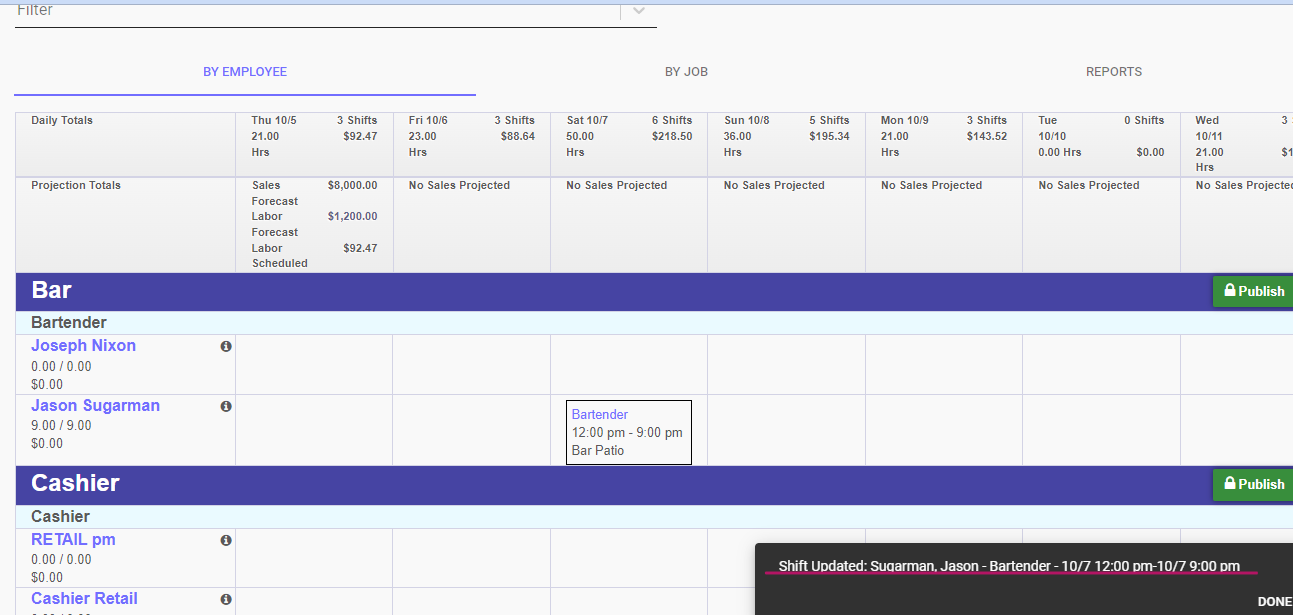 SIDEBAR
Within the Sidebar, several tools are available to you. You'll initially see convert all shifts to open or delete all shifts. Converting all shifts to open allows you to "house" or move all assigned shifts to unassigned/open, for a single schedule or multiple schedules. Deleting all shifts will delete any existing shifts on a single schedule or multiple schedules. Although both of these tools are powerful, proceed with caution!
Additionally, you will discover a comprehensive guide outlining the various keyboard shortcuts available for use on the Scheduler. These shortcuts include the ability to cut, paste, and copy shifts, among other convenient functions, streamlining your scheduling process for enhanced efficiency and productivity.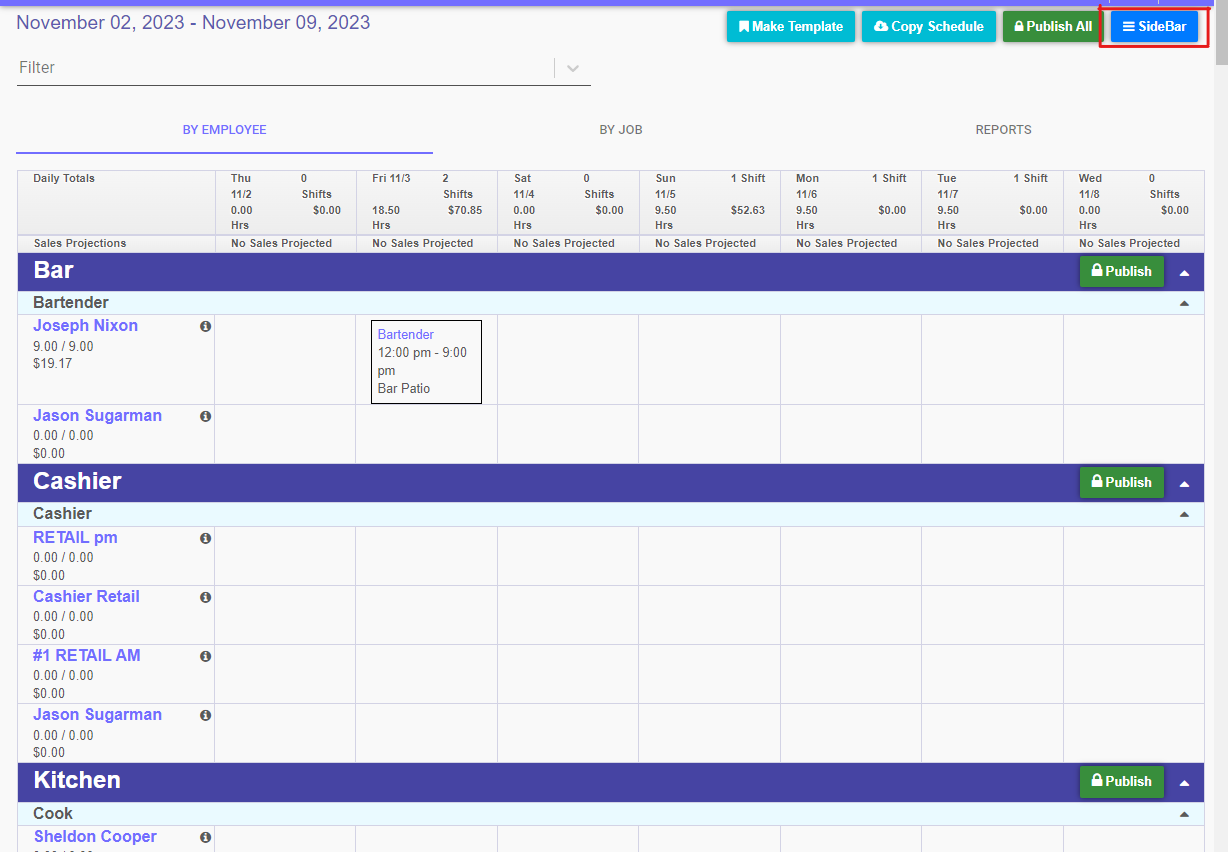 MAKE A TEMPLATE
An extremely handy feature of the Scheduler is the ability to Make a Template. This feature empowers customers to create a schedule template, with a single schedule or multiple schedules, enabling them to replicate it seamlessly for future schedules. This functionality significantly reduces the time and effort required to create new schedules, offering a convenient solution for recurring scheduling needs.
How to Save a Template:
1. Look for the option labeled "Make Template" and click on it.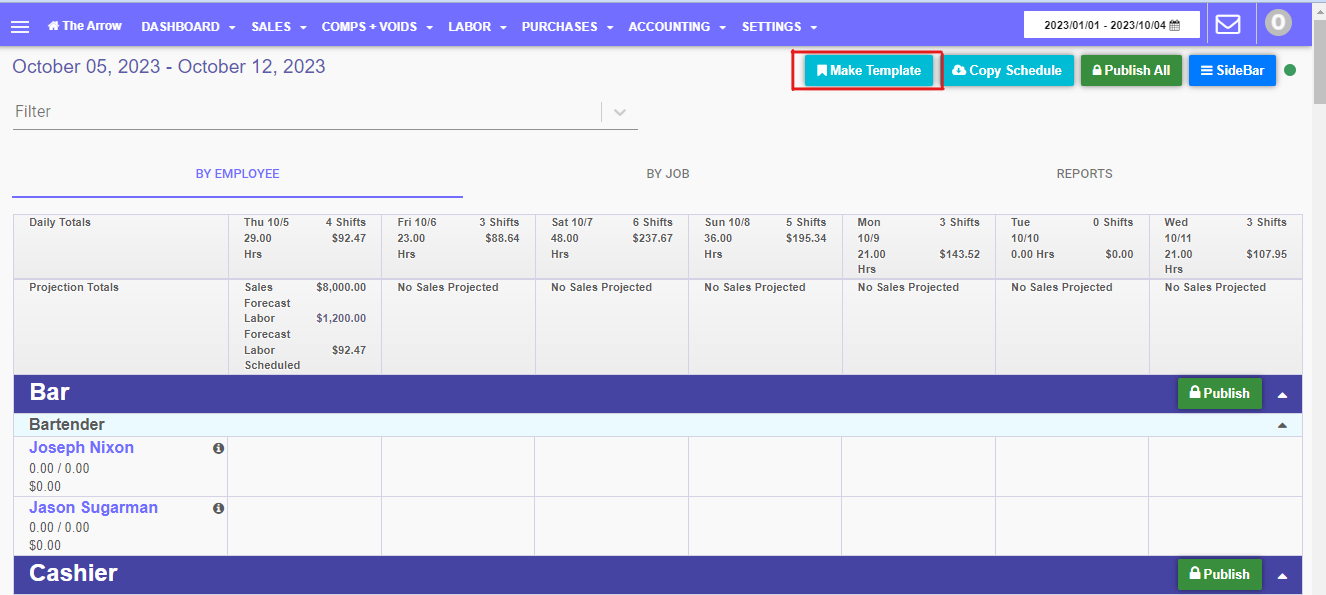 2. A window will appear showing the available Schedules to select (labeled as Groups). Select the specific Schedules you want to include in the template and then click Next.


3. A field will appear where you can enter the name of the template. Enter a descriptive name for the template that will help you easily identify it later. Finally, look for the Save button and click on it to save the template.